Looking for a low hassle camping meal after a long day of hiking, swimming, or struggling to get your new tent set up? This meal is delicious, ridiculously simple, and low cleanup.
Let's get right into the ingredients!
2 cans of New Brunswick Craft Cider (I used Yip)

4 Pork Chops

4 Large Russet Potatoes

2 Green Apples

1 Medium Yellow Onion

2 Cloves of Garlic

Salt and Pepper

Herbs

Olive Oil

And for cooking equipment all you need is:

A Cutting Board and Knife

Tin Foil

A pair of tongs

A nice fire that has worked its way down to hot coals.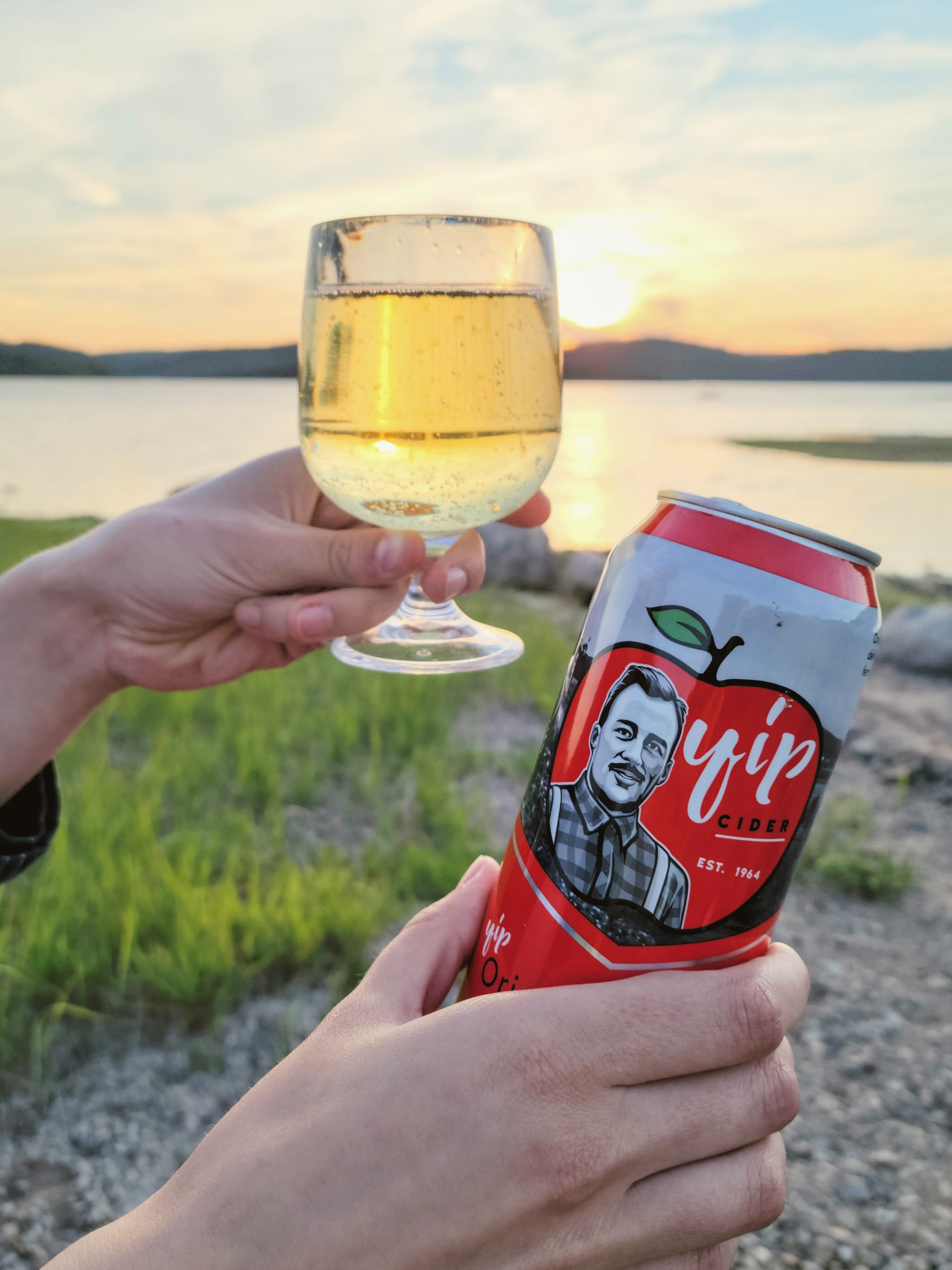 Really that's it. No pots, no pans, and no pile of dishes at the end of it.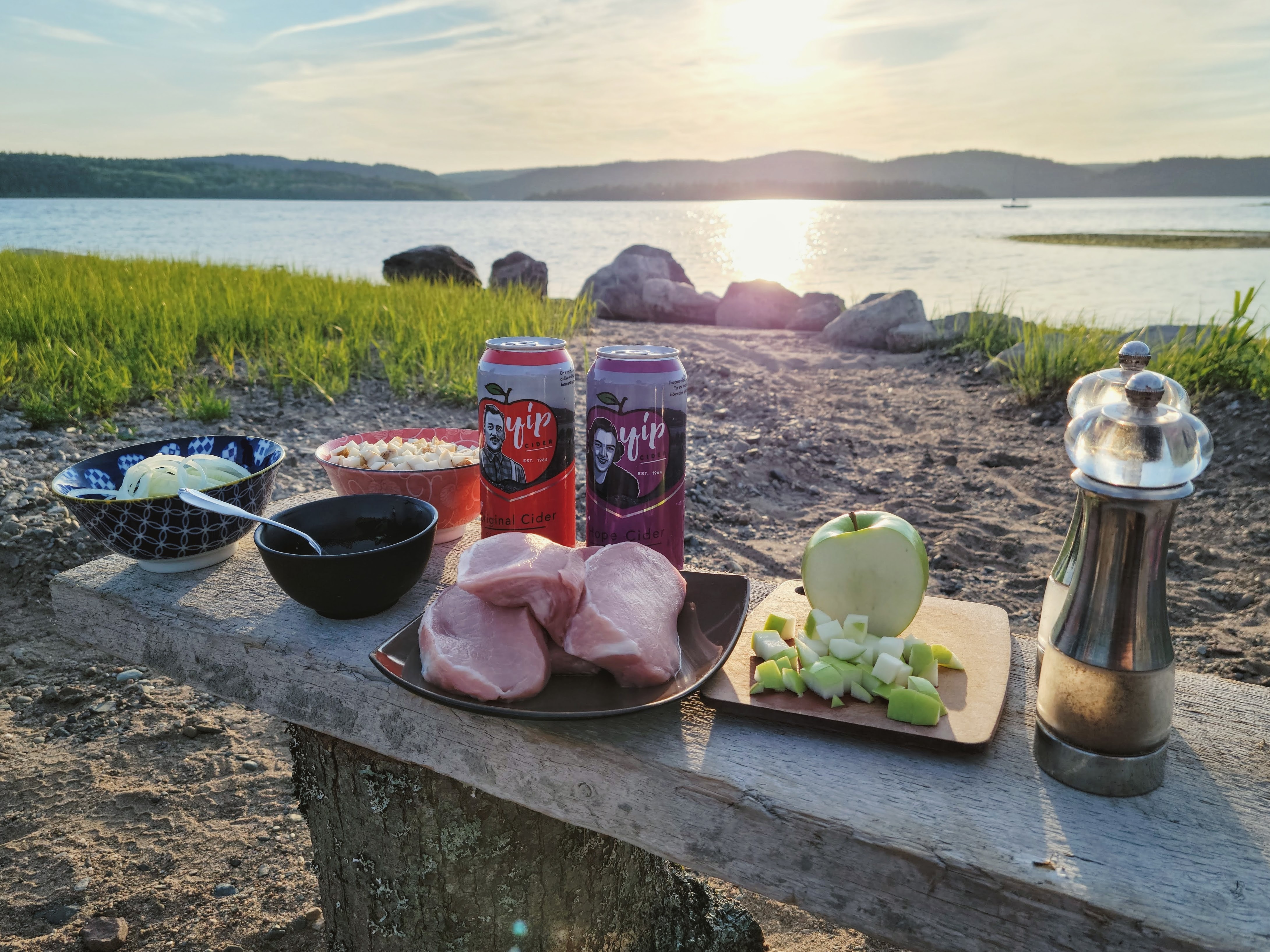 Step 1: Cut apples and potatoes into small cubes (make sure the potatoes are really small, around 1cm by 1cm!)
Step 2: Cut onions into thin strips and mince the garlic.
The following steps will need to be done four times, one for each pork chop.
Step 3: Place ¼ of the apples, potatoes, and onions on tinfoil. Drizzle with oil and top with garlic and herbs.
Step 4: Season both sides of the pork chop with salt and pepper and place it on the vegetables. Top with more oil, garlic and herbs.
Step 5: Start wrapping it up, and then add a generous amount of cider (I used around a third of the can of Yip Cider per pork chop). For the foil wrap, I start it like a bowl to keep the cider in, and then folded the top over and sealed the edges. I wrapped mine twice to avoid any leaks or burns, and it ended up looking a bit like a burrito.
Step 6: Place tin foil wrap on hot coals outside of the actual fire, and then leave for 20-25 minutes or until potatoes are cooked.
Make sure you are very careful around the fire and while cooking and handling the super hot tinfoil!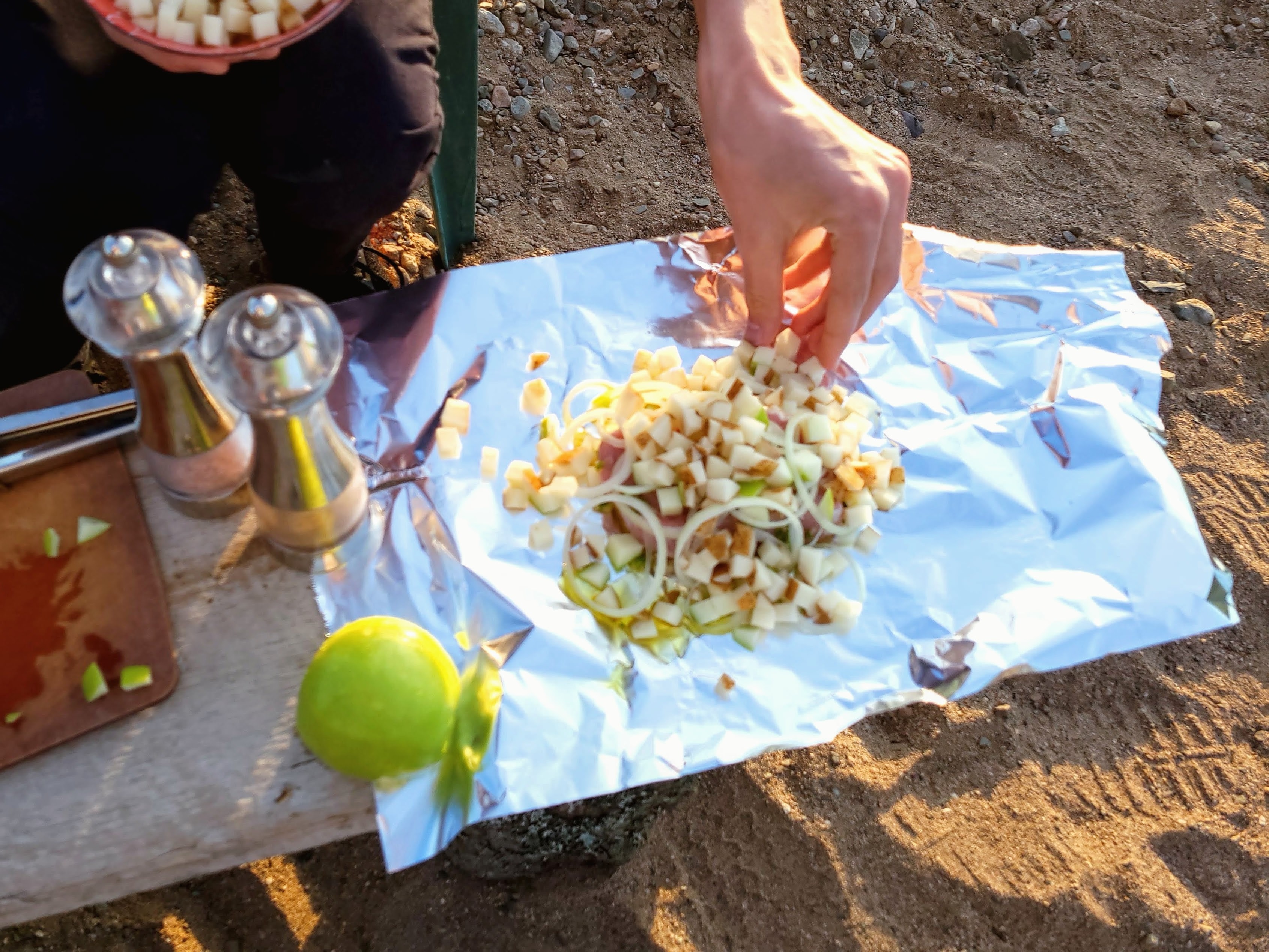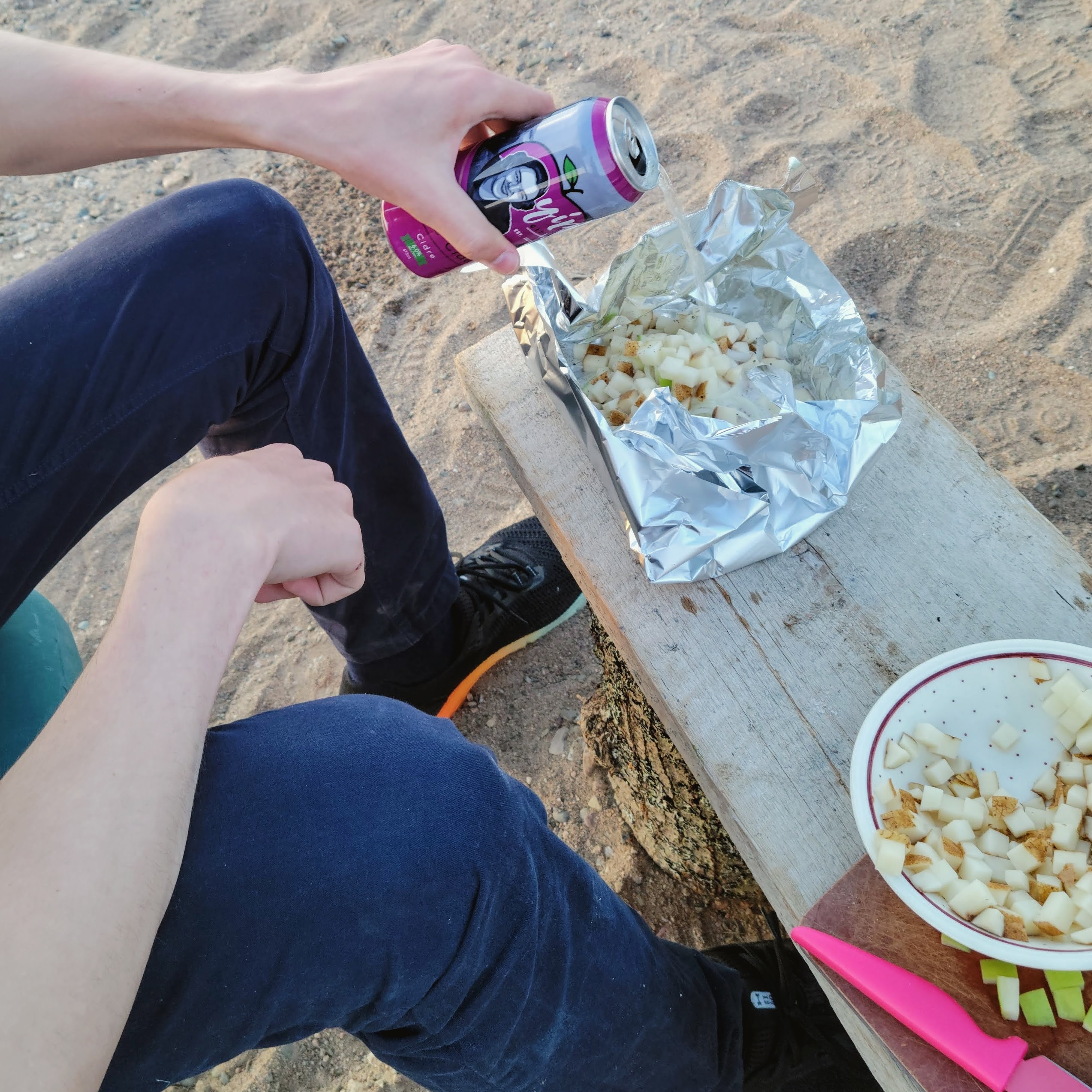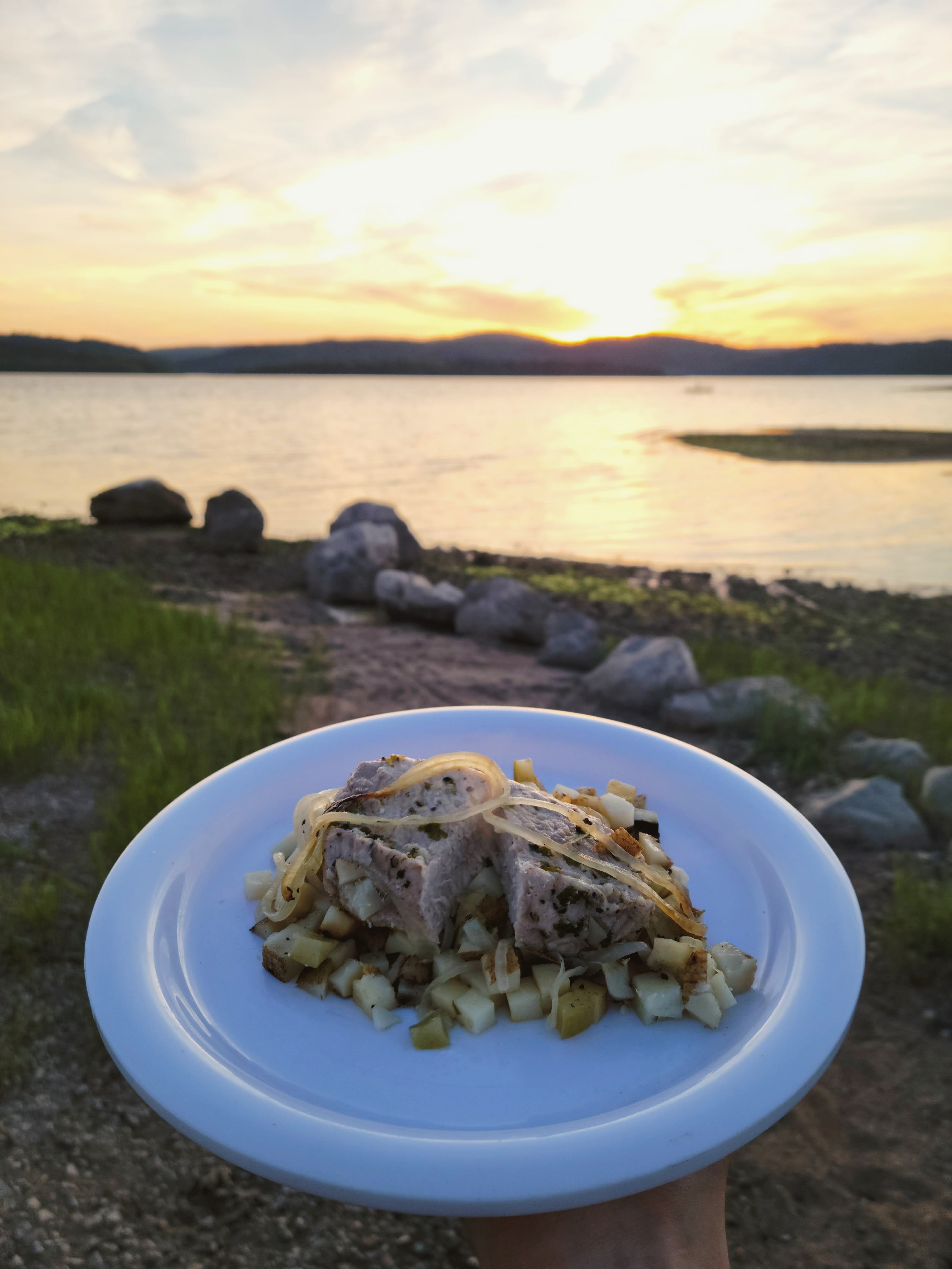 There's no easier meal while camping and of course, you can tweak it in so many ways. For herbs, I just grabbed a few things from the garden, but really it's up to you and what you have on hand.

If you crack open the foil and there is extra liquid left over, you can remove the pork and veggies and leave the liquid to reduce in the foil, which turns it into a lovely glaze.

To have good coals for cooking, make sure you have a fire going for at least half an hour, move any large logs to the side, and then place your tinfoil wrap on the hot coals. Leave the fire burning beside it to keep the heat up and produce new coals.

Those with keen eyes may notice I used two different types of Yip cider, the Original and the Hope. I wanted to see which one I preferred, and honestly they were both great. However, their Hope Cider was a little sweeter and we preferred it with this dish. I can tell you for sure that both options were a wonderful choice for an evening drink by the fireside.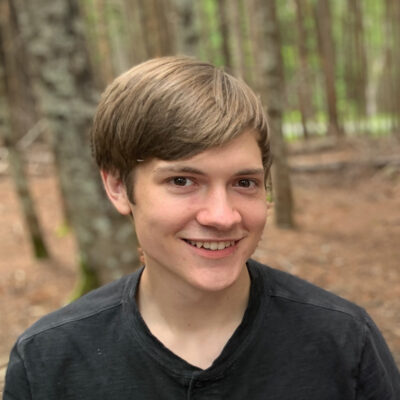 Alexander Ankersen