Uncorked Tours tasting room in the historic Saint John City Market is an amazing place to enjoy craft alcohol—in fact, they only serve New Brunswick-made products. You can pick up some great food from the various small vendors in the City Market, making it ideal for any time of day.
I was there for another reason: to see how New Brunswick wines compare to their international counterparts. Often, even if you want to buy local, it can be hard to know where to start. If you are already familiar with big-name international companies or you have just fallen into the groove of a specific wine, it can be hard to break that trend and move towards supporting local businesses. This was the perfect event to quash any fears of switching to local wines.
The Night's Lineup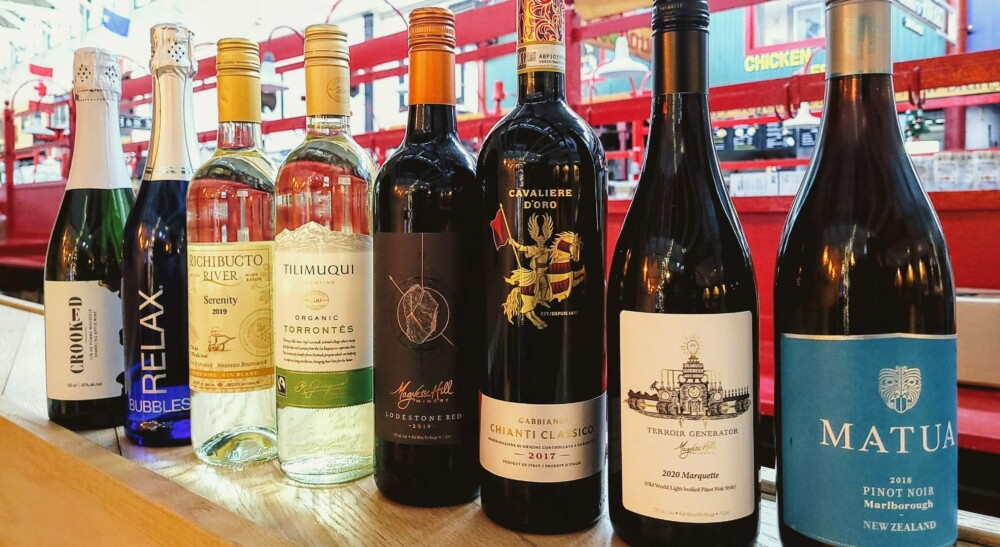 Crooked Sparkling Apple (NB) vs. Relax Bubbles
This first match-up was a lot of fun and made a great start to the night. While an apple wine might not seem too similar to a German Riesling, they were surprisingly alike. After all, Riesling is often said to have an apple flavour, and having a wine made from apples was a great spin-off. When everyone tried the Crooked Sparkling Apple, the socially distanced room came alive. Perhaps the best praise of all was when one of my fellow attendees pulled out their phone and triumphantly declared: "It's on sale!" The sparkling apple was a unique middle point between cider and sparkling wine that appealed to fans of both.
Richibucto River 2019 Serenity (NB) vs. Tilimuqui Torrontes
For the next wine battle, we had a fight between the only whites of the night. The Richibucto Serenity held its own against the Torrontes. The fruity notes definitely gave it a fresh, stand-out flavour which set it apart from its Argentinian competitor.
Magnetic Hill 2019 Lodestone Red (NB) vs. Gabbiano 2017 Chianti Classico
In my humble opinion, the Magnetic Hill Lodestone was among the best wines of the evening. It had a nice, complex flavour which I always love. The label describes it as bold, and I agree with that in the best way possible. The Gabbiano used to be my go-to when I was cooking Italian, but next time I'm going to reach for the Lodestone.
Magnetic Hill 2020 Marquette (NB) vs. Matua 2018 Pinot Noir
Next, we got to have a sneak peek of the upcoming Magnetic Hill Marquette, and let me tell you, it's one to watch out for—and you'll have to, it's only going to be available at the winery and select restaurants. Its striking label displays a mythical steampunk-esque machine called a Terroir Generator. Putting a New Brunswick wine against a Pinot Noir doesn't seem like a fair fight, seeing that those grapes don't grow in our climate, but interestingly, these two wines had the closest flavour palette. It's great to see local wines holding their own, even on this uneven battlefield. Perhaps that Terroir Generator works after all?
Next time you're buying wine here in New Brunswick, make sure to check out the local options. Even if you have specific favourites from around the world, this unique night of comparisons showed that New Brunswick has an answer for all your needs. Supporting local wine doesn't have to be something you wish you did; it can be the best choice for your community and your glass.